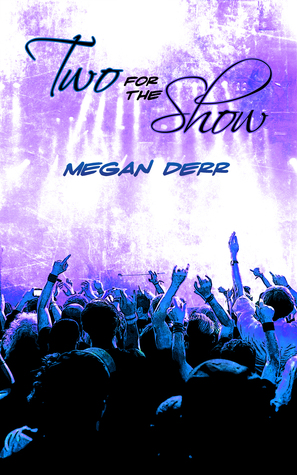 Nikko needs a scandal. Something, anything, that will keep media eyes on him and far away from the fight for his deadbeat brother's children. When he sees Jake Hallow in a bar, it seems a perfect solution. What would cause more noise than planting a kiss on a ruler-straight country star? He didn't expect Jake to kiss him back.
Jake's faced a lot of surprises in the forty-four years he's been alive. But being kissed senseless by the beautiful Nikko Star is something else entirely, and he doesn't at all know what to do with the long-banked feelings that Nikko turns into a blaze. Or the disappointment he feels when he learns the real reason Nikko kissed him.
But hearing Nikko's story, Jake decides to help, and agrees to give the world a fake love affair for the sake of protecting a couple of kids. And he's always believed in putting on one hell of a show—no matter how much it leaves him hurting when the lights go down.
About Megan Derr
Megan is a long time resident of m/m fiction, and keeps herself busy reading, writing, and publishing it. She is often accused of fluff and nonsense. When she's not involved in writing, she likes to cook, harass her cats, or watch movies (especially all things James Bond). She loves to hear from readers, and can be found all around the internet.
maderr.com
maderr.tumblr.com
maderr.livejournal.com
lessthanthreepress.com
@amasour
My Review
Warning: Review is angsty plus it contains spoilers
My rating: out of 5 stars
I loved Two for the Show! It is a quick read and the story is straightforward and uncomplicated yet sweet and heartbreaking.<3
Nikko has to find a way how to distract the paparazzi always tailing him for fresh news if he wanted their noses out of his custody battle with his brother for his nephews.
This story struck a chord within me because the children reminded me of myself and my cousins when we were kids. My cousins' father, my uncle, was most often tying one of them with a rope and hanging him upside down or whipping them with an uninsulated electrical wire or putting one of my cousins inside a sack. For three years I bore witness to the atrocities committed by a father to his own children and a decade later, when one of those cousins died, I would dream of these incidents over and over.
So I guess this is why I loved this book. Apart from the fact that I love Megan's flawless writing and how effortless she weaved the scenes of the story together. I loved that Nikko loved his nephews, that he cared enough to look after them and take them in.
Maybe a huge part of me wished someone saved us from a similar situation. But I also acknowledge that I should have told an adult or two about our situation in the house then maybe someone really would.
Since my grandparents died, a lot of people wanted to take me away from home: my uncle Dieg, my godmother,  my English teacher who got alarmed at the essay I wrote for the class. No, I didn't write about the domestic abuse but I told him I have no family because they are all dead and while I did have a sister, she was in Manila; I did have a father but I have yet to meet him as did my brother. To my teacher, this sounded off because I lived with my cousins, aunt, and uncle. Why did I not talk about them in my essay instead? My wise teacher had read between the lines and told the nuns who ran our school who, in turn, talked to me and tried to pry the truth out of me.
For the first time I would lie knowingly. The only thing running in my head at the time was how the nuns would take me away from home. I couldn't leave my cousins behind, so I lied my way out. I told her yes, we have food at home. Yes, we eat three times a day. Yes, I have lunch money every day. Yes, my aunt and uncle were taking good care of us. It didn't occur to me to tell them my problem lay on how my uncle would beat the shit out of an "errant" family member.
By the end of that school year I would leave the house anyway. I'd had enough. For three years I stood and watched in silence as these things happen and then one day I discovered my sister Ate Mae's letters in one of our cabinets in second floor, torn to shreds. How long had my aunt been doing this? Did she do this while my grandmother waited for my sister's letters when she went to Manila for college? For over a year my grandma waited and waited for the letters that never came.
And then she died thinking my sister had forgotten us.
The thoughts racing in my head over and over enraged me. How Nanay waited and waited, how worried, disappointed, and sad she felt. How cruel my aunt was for doing that. Oh I knew why she did it. My aunt did it for the small amount of money my sister had inserted on the letter.
Minutes later when my aunt came upstairs I made sure she knew I was pissed. All those years of holding back and then just like that, I threw the cabinet doors closed with a loud bang.
I made sure she saw the pieces of paper, my sister's handwriting visible. I scowled at her. These things are a no-no in the Filipino culture.The kids aren't supposed to talk back, fight, scowl, etc. etc. on their elders.
If I said something about the letter directly I have no recollection. I have no idea either if she understood why I got angry but the next thing I know she was hitting me with her slippers and then she was dragging me down the stairs and I was thinking, why am I here? Why did I not leave this wretched place?
After that incident I wasted no time. I sent word to my uncle via my sister, would they please get me the fuck out of there when the school year ends? No, I didn't use those words but close. I asked my best friend Jihan to mail the letter for me and from then on, Ate Mae addressed all her letters for me to Jihan.
I left town at thirteen with a resolve to come back for my cousins but when I did, I couldn't take them away and then one of them died hence the beginning of my many regrets.
So yeah, I may or may not have cried while reading this book. I thought that every kid should have an uncle like Nikko and every Nikkos out there deserved a Jake by their side. 🙂 Maybe it's why I read fiction, too. In fiction, kids suffer but as a rule they cannot die. They get to have their happy ending, too.
Five stars for Two for the Show from me. That the story is music-themed is a bonus, the audition scenes being my most favorite part of the book.
Go read the story here:
https://www.wattpad.com/story/50968984-two-for-the-show